---
Products | Engineering Services | Field Engineers
---
We provide the fluid system, application, and manufacturing expertise needed for you to feel confident in the performance of your fluid system assets throughout their full lifecycle. We have supported the semiconductor industry's advancement for more than 50 years by meeting consistent needs for high
yield and throughput, maximum cleanliness, and component reliability. We also help when new needs emerge, providing fully engineered fluid system assemblies or modified products with the performance capabilities needed to help semiconductor manufacturers solve unique problems.
Knowledgeable fluid system specialists can provide insights regarding which fluid system
components, assemblies, designs, or material choices will help you maximize chip throughput and
yield without sacrificing cleanliness or precision
Local Swagelok-certified professionals can analyze your fluid systems for problems and recommend solutions to help you improve process reliability, find opportunities for efficiency, and improve operational safety
Our applications engineers can apply their technical knowledge, advanced software, and manufacturing expertise to develop unique solutions to help you overcome process challenges
Experienced trainers can provide product, installation, maintenance, and system design training to ensure your team members have the knowledge needed to enable dependable long-term fluid system performance
Semiconductor Applications
Swagelok's products find diverse applications in the semiconductor industry, enabling the seamless flow and control of critical fluids and gases.
Gas delivery systems: Swagelok components ensure precise control and reliable delivery of ultra-high purity gases in semiconductor manufacturing processes.
Vacuum applications: Swagelok fittings and valves are utilized to maintain and control vacuum levels in semiconductor equipment, ensuring optimal performance.
Fluid flow management: Swagelok solutions enable precise control of fluid flow in etching, deposition, and other critical processes, contributing to consistent and high-quality semiconductor production.
Clean environments: Swagelok products play a vital role in maintaining clean and controlled environments, minimizing contamination risks during semiconductor manufacturing.
Process reliability: Swagelok's high-performance components provide the reliability and durability needed for continuous operation in semiconductor production facilities.
Safety assurance: Swagelok's products are engineered to meet stringent safety standards, ensuring the safe handling and transport of hazardous fluids and gases within the semiconductor industry.

Swagelok Semiconductor Cleanliness Chain
Products for the Semiconductor
Given the cost of semiconductor production and the value of the outputs, downtime must be avoided to maintain profitability. To minimize total cost of ownership, Swagelok components and supporting services are engineered to deliver consistent performance over millions and millions of cycles, often in process environments that are only becoming more challenging. The exploration of new precursor gas options for deposition requires fluid system components to withstand hotter production processes and more corrosive media. Our products are built to last in these environments, providing long-term reliable performance.
Engineering Services for the Semiconductor Industry
Swagelok's engineering services are designed to provide comprehensive support and expertise to the semiconductor industry. With their deep understanding of fluid system technologies and industry-specific challenges, Swagelok's team of engineers collaborates closely with semiconductor manufacturers to optimize operations and ensure peak performance. Here are three key engineering services offered by Swagelok that benefit the semiconductor industry: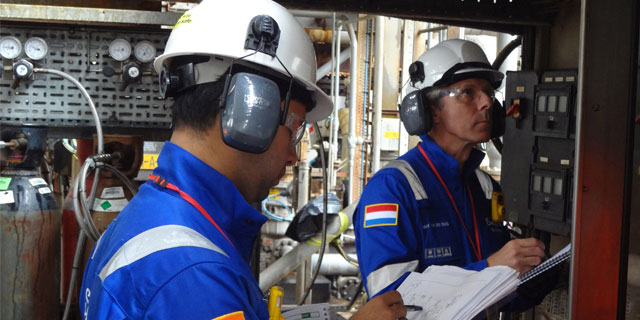 Boost system safety, performance, and efficiency with prioritized, actionable recommendations from Swagelok experts based on fluid and sampling system site surveys, hose advisors' observations, or steam system audits.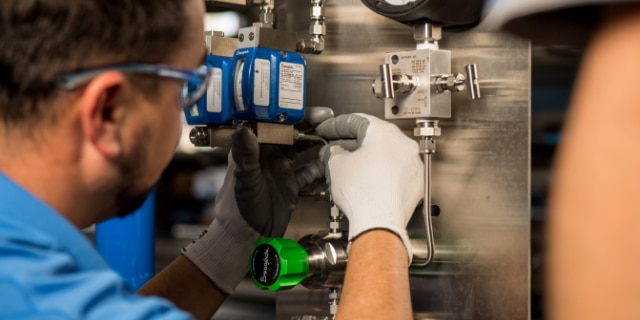 Receive design consultation and professional assembly of high-quality standard and configurable fluid subsystems constructed and tested according to best practices.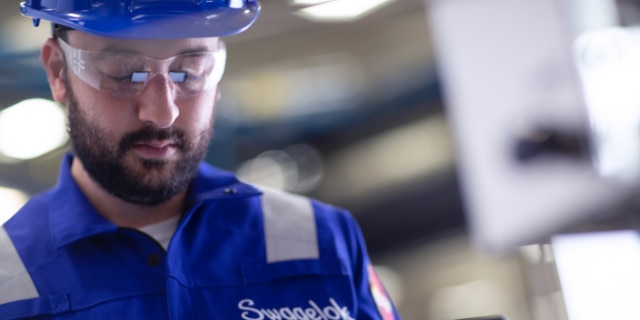 Swagelok has field engineers positioned around the globe who can visit your facility promptly, collaborate with your team, and then assess and evaluate all known (and unknown) issues
Our Field Engineers
Our field engineers can help you develop effective responses to your most pressing fluid system-related challenges. They are located locally and across the globe and regularly collaborate with one another to find the best solution to customer challenges. They can help you determine how to:
Continuously meet tougher regulatory demands related to safety and emissions through leak detection and risk mitigation
Increase productivity and yields from your fluid systems through design enhancements and troubleshooting
Reduce operating costs throughout your facilities by minimizing maintenance requirements and improving system performance
Maintain or increase overall profitability by making uptime and process improvements
Replace business knowledge that has "walked out the door" with former employees through consultation and training
Meet Our Local Field Engineers
Sam Polise
Director of Engineering Services
sam.polise@swagelok.com
Jonathan Smith
Field Engineer
jonathan.smith@swagelok.com
---