Properly Seal Your Systems Threaded Connections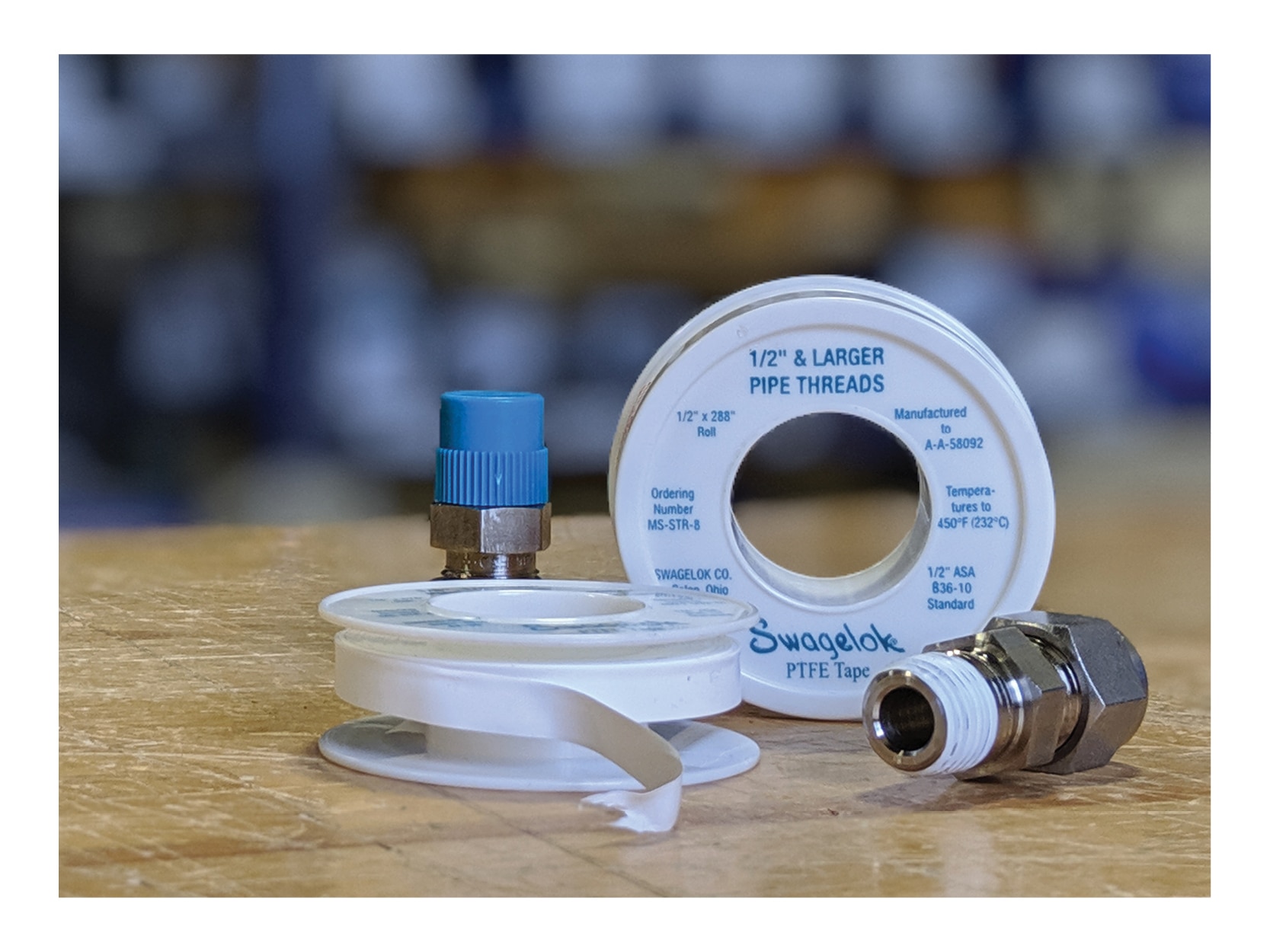 PTFE Tape, often called Teflon® Tape is the default standard for sealing threaded NPT joints. The sealing tape comes in various weights and colors and can cause some confusion among users desiring to be certain they are using the correct grade for their application. In the United States the only recognized standard for PTFE Tape (Tape, Anti-seize, Polytetrafluoroethylene) is A-A-58092, published 09 April, 2012. This GSA Standard took the place of the earlier Mil-T-27730A standard. This standard is for sealing liquid and gaseous oxygen. In Europe, there is a different British Standard, BS-7786-2006, which we will not address in this article.
The GSA Standard only requires that the PTFE tape be one of four standard sizes:
Size 1
¼" wide, and 0.0035" +.001" or -.0005" inches thick
Size 2
½" wide, and 0.0035" +.001" or -.0005" inches thick
Size 3
¾" wide, and 0.0035" +.001" or -.0005" inches thick
Size 4
1" wide, and 0.0035" +.001" or -.0005" inches thick
The tape should be kept in a closed package to prevent contamination.
In addition to the sizes above, GSA calls out clear specifications for the tape to meet. These are:
Minimum elongation of 50% without breaking or tearing when tested to ASTM-D882.
The specific gravity of the tape shall be at least 1.2 when tested in accordance to ASTM-D-792.
The tape shall be at least 99% polytetrafluoroethylene and shall contain no materials that are combustible in the presence of oxygen or that produce toxic vapors at temperatures up to 260˚F.
The contractor shall provide clear and concise instructions as to the application of the tape.
The workmanship shall be of a high quality and shall be commensurate with the requirements specified herein.
Various manufacturers and suppliers of PTFE tape offer it in different weights, widths and colors, with each color called out for a specific application. The color coding is generally related to colors associated with piping for the suggested application; however, this is a marketing tool and not related to standards for the tape.
The various colors and weights of tape (always lighter in weight than that called for in the GSA specification) will generally work, but each has its own potential benefits and drawbacks.
This document was prepared by Swagelok Kansas City | Little Rock | Omaha | Quad Cities. The information and recommendations are intended as general information only, are subject to change without notice, have not been verified by Swagelok Company, and do not contain or create any warranty or guarantee regarding accuracy or completeness. Users bear responsibility for determining the suitability of information, recommendations, and products for their own use and situations. Consult catalogs on www.swagelok.com for the most current information about Swagelok products and services.